Alabama's Current Issue...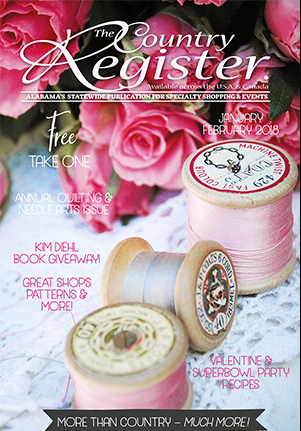 January-February
Quilting & Needle Arts Issue

The Country Register of Alabama is published every two months. The time seems to fly by between issues.
For those who prefer to read on-line we are now publishing the complete paper here for you on our web site and will leave back issues on as well. How often we have been called and someone has given their paper away or misplaced it and needed the name or location of a shop, a tea room or wanted to know where there was a paper close to them.
The print edition will still be available as usual in each advertising shop and other select rack locations. Some people will always and forever prefer to sit down in a cozy chair with a cup of tea and read through the paper edition page by page. For those who prefer to read the publication online, whether it's on your desktop, phone or tablet, we have also made our publication available online. This has increased our readership and have increased the exposure for our advertisers. You can also view our publication on ISSUU. Yes, there's an app for that. ISSUU app available free for OS or Android. Just search The Country Register of Alabama. Be sure to check out our advertiser listing and advertiser events!
We will also feature our advertisers and events on our new Facebook page. Be sure to like us on Facebook! Be sure to tell our wonderful advertisers that you found them in The Country Register. Without them our publication would not be possible.